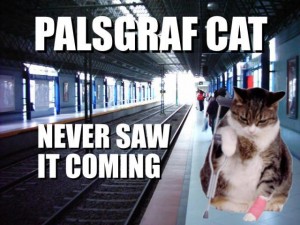 OLIVIA HOLZAPFEL & CLAIRE YICK
<Contributors>
After much lobbying, the Animal Law Society (ALS) is proud to report that, for the very first time in our school's history, there is an animal law class available to students on the Osgoode curriculum.  "Animals, Law & Society" is taught by Professor Ziyaad Mia and offers students an excellent opportunity to begin or further their study of some of the issues at play when animals interact with the justice system.
The dearth of protection afforded to animals through our legal system is shocking. While it is true that there are a few Criminal Code provisions designed to protect the welfare of some animals, these provisions are rarely enforced, contain various loopholes, and offer negligible punishments.  In order to effect meaningful systemic change, we need to embark on a conceptual shift – one in which the goal of animal welfare is prioritized and advanced.  The addition of an animal law course to Osgoode represents a giant leap forward in this direction. The course both promotes the recognition of animal law as a serious subject worthy of scholarly attention, and introduces law students to some of the theoretical and practical challenges associated with this field.
Throughout this semester, the course has covered a number of interesting and diverse topics, including:
whether animals should be granted standing and methods through which this could be achieved
the use of animals as a resource (e.g., as food, experimental research subjects, companion animals) in an anthropocentric society
the re-definition of animals as something other than property
the development of animal rights in relation to issues faced in debates regarding race and gender equality
These substantive issues were interspersed with discussion of more topical issues, such as Darwin the Ikea monkey, the consequences of talking animals, as well as the seminal case of Palsgraf Cat v Long Island Railroad.
The importance of the diversity of issues related to animal welfare and the law demonstrates that this is an expanding field that can present myriad career opportunities, both now and in the future.  Indeed, the long-awaited Animal Law Section was ratified just last year in 2012 at the Ontario Bar Association. Panel discussions held by the Section have included overviews on the emerging field of animal law in Canada, prosecution cases, animal law reform, and adjudication. Additionally, last semester, ALS was able to create an OPIR opportunity with lawyers at Animal Justice Canada for students interested in working on animal welfare issues.
Olivia and Claire are the Co-chairs of the Animal Law Society. For more information, please visit osgoodeals.wordpress.com. Please email osgoodeanimallawsociety@gmail.com to join our mailing list or if you are interested in joining the ALS Executive in 2013-2014.