In the second running of the Focus on Sustainability Film Festival, an event co-created by the Osgoode Environmental Law Society (ELS) and co-produced by the Planet in Focus International Environmental Film Festival (PIF), the YorkU screenings welcomed not only the campus crowd, but attendees from the wider community.  The theme of the festival (food), as well as the afternoon discussion panel attracted foodies interested in both the impressive film selection and even more inspiring panel.
The panel, moderated by YorkU MES Candidate Jessica Reeve, included three notable figures in the Toronto food scene: lawyer Carly Dunster, Harmony Organic's Lawrence Andres, and food activist and Chef Michael Stadtlander.  In the 90 minute panel, the audience was mesmerized to hear about the niche field of food law, the growth and success of the local organic milk industry, and the anti-GMO activism of a local hero Chef.  However, the panellists were not the only honored guests; following the screening of Sushi: The Global Catch, Director Mark Hall participated in a Q&A period via Skype.  The festival was further honored by the attendance of PIF Artistic Director Kathleen Mullen, who opened the festival and later raffled passes to PIF which returns this November.
An endless array of prizes were also raffled between the screening of the films, as well as before and after the panel, and at the beginning and close of the festival.  The gifts were donated by local markets and restaurants, which included a $100 gift basket from Front Door Organics, a $100 gift card to the Big Carrot, a $60 gift pack from Fresh Restaurant, a $120 gift card to Mama Earth Organics, and brunches for two at the Farmhouse Tavern and Free Times Café.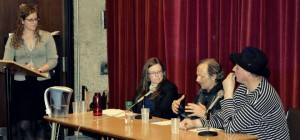 Of course, we cannot forget to mention the five films screened throughout the day, which covered a range of food/system issues.  Among the five was a short directed by award-winning Min Sook Lee, titled Teodoro in Toronto, which follows one of the featured workers from her film El Contrato as he speaks to locals in Toronto about poverty, food security, and labour rights.  The full length films were: Bitter Seeds, which explores the plight of farmers in India who are forcefully tied to genetically modified seeds; Love Meat Ender, which examines global meat consumption and the (in)ability to keep up with the demand; Urban Roots, which examines reclamation gardening projects in the inner city of Detroit, and Sushi: The Global Catch, which questions whether the growth rate of this popular food can be maintained ethically.
The festival, which will return in winter 2014, was organized by the Osgoode Environmental Law Society (ELS), the Institute for Research and Innovation in Sustainability (IRIS), and with help from the Centre for Human Rights (CHR).