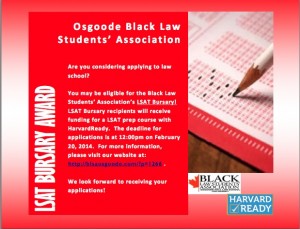 The Black Law Students' Association would like to thank the Osgoode community for all their support in helping us achieve last semester's goal for the LSAT Bursary Program.    We are proud to announce that we are officially launching the LSAT Bursary Program this year and will be awarding three bursaries for our inaugural year.  We've partnered with HarvardReady to support students in their endeavour to pursue a legal education.  The bursary will go towards a live HarvardReady LSAT prep course, a highly regarded LSAT prep course program.  This program will operate on an annual basis, and we are grateful that the Osgoode community was so helpful in our cause.
Thanks to the Osgoode community, we were able to surpass our goal of $500 last semester and we hope that you will once again aid us this month.  As some may recall, the BLSA was in Gowlings Hall selling candy grams to students for Halloween.  We were overwhelmed by your support since you were willing to come by, have a chat, and support our cause.  We also had a great time delivering your candy grams and special messages.  The cheer you were able to bring to both friends as they indulged in their pre-class sugar rushes and to hopeful law students through your financial support is truly wonderful.
This February we will be repeating this fundraising campaign with Valentine's Day Candy Grams between February 5-13.  Once again you can visit our table in Gowlings Hall to purchase delicious candies to give to that special someone.  The BLSA is proud to help you in your romantic (or friendly) quests, and we'll be as clandestine as you'd like.  Give a few candy grams to someone as a secret admirer, pour your heart out onto the small card, or send a friendly note to your BFF, and we'll deliver the message.  Once again all the proceeds will go towards the LSAT Bursary Program. For more information on the program and the applicant selection process, please visit our website at www.blsaosgoode.com.
Along with a fully funded Harvard Ready LSAT prep course, the bursary winners will be given an opportunity to speak at the Black History Month Celebration on February 25th.  The theme of the celebration this year is "The Dream is Now: Building the Future on Yesterday's Foundation."  The BLSA is planning several events for students during Black History Month beginning with the kickoff event on February 3rd.  During the month we will also be hosting some students from the York and high school community to come to Osgoode to experience law school life.  They'll sit in on classes and be given an opportunity to mingle with the Osgoode crowd.  We look forward to your support once again in helping these students feel welcome as they sit in on your classes.
As mentioned earlier, Black History month will wind-down with the Black History Month Celebration on February 25th.  On this day, we will be awarding a distinguished member of our community who has made outstanding contributions to the black community with the 2014 Lincoln Alexander Award. This award was established by the Black Law Students' Association in 2013 in honour of the late Honourable Lincoln M. Alexander, P.C., CC, OOnt, CD, QC, LSM.  The inaugural Lincoln Alexander Award was presented to Justice Michael Tulloch, the first black judge to be appointed to the Ontario Court of Appeal, as part of Osgoode's Black History Month celebration.
We would like to once again thank the Osgoode community for all your dedicated support in helping the BLSA pursue its objectives and we look forward to seeing you in the upcoming weeks in Gowlings Hall. Your continued efforts have allowed the BLSA to engage with the community in a positive way and we hope to continue to do so with your help for many years to come.