Eight years ago, our Chief Justice, the Right Honourable Beverly McLachlin, called on Canadians to improve access to justice in Canada, or continue the slow but unacceptable march towards legal inequality – for as she has so rightly repeated in her ensuing campaign, "there is no justice without access to justice."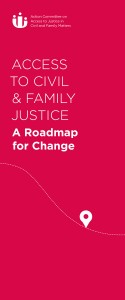 Two years later, in 2008, Justice McLachlin made access to justice a national priority, the Action Committee on Access to Justice in Civil and Family Matters was formed under the leadership of Justice Thomas A. Cromwell. Composed of a cross-section of Canada's foremost leaders in civil and family justice as well as public representatives, the Action Committee was tasked with developing consensus priorities for national and local reform. Over time, four distinct themes, which became four working groups, emerged in the Committee: court process simplification; legal services; prevention, triage, and referral; and family justice.
This past year, the Action Committee and each of the working groups released their final reports. Drawing these reports together, the Action Committee released its final report "A Roadmap for Change" in October. The final report identifies the need for change, establishes guiding principles, and develops a set of goals – A Nine-Point Access to Justice Roadmap to help improve access to justice in Canada (visit www.cfcj-fcjc.org/collaborations for the report). Years of research and deliberation culminated in a comprehensive response to the Chief Justice's challenge. But the work had just begun.
On January 27-28, eight Osgoode students volunteered as note-takers at the Action Committee Colloquium, hosted by the Canadian Forum on Civil Justice (the CFCJ) and Osgoode Professional Development. The purpose of the Colloquium was to gather together a wide variety of justice stakeholders to discuss concrete steps that could be taken to start down the road laid out by the Action Committee's final report. The students sat in groups large and small, surrounded by the full gamut of access to justice leaders – from Supreme Court Justices to heads of Pro Bono associations – and they documented the future of access to justice in Canada.
The goal of the Colloquium was to channel talk into into action, a goal that is ongoing and ultimately massive in scope. The road will be winding. From the students' notes will come a report that documents the Colloquium and charts a more definite course for the future. The long campaign for access to justice marches on.
To learn more about the Colloquium and other Action Committee activities see: www.cfcj-fcjc.org/collaborations.