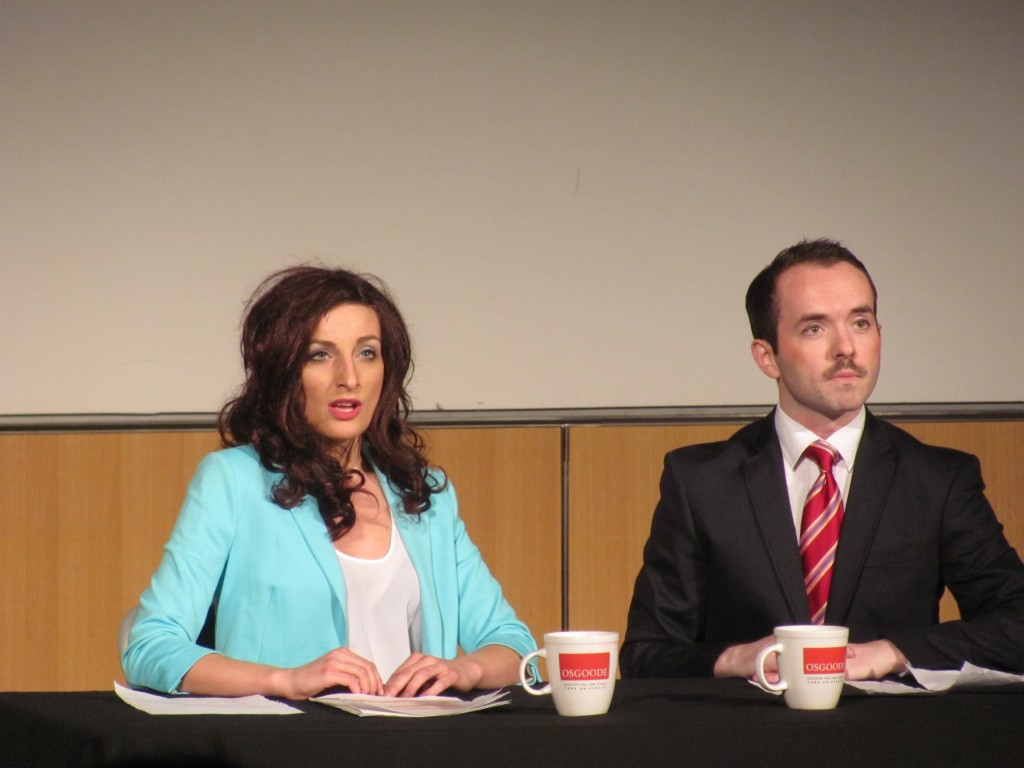 On February 12 and 13, some of the most committed Ozzies around put their talents together and put on a spectacular revue of the best legal humour in North York. This Editor attended the Thursday night performance, which is typically the rowdier event. The packed Moot Court room did not disappoint. Business Manager and performer Brendan Monahan reported before the show that there were no tickets left for sale, and the atmosphere in the room was one of a happy crowd.
The truth is that Mock Trial is not just a variety show; it's one of the biggest Osgoode parties of the year.
Second only to the week-long Orientation Week extravaganza and rivalled only by the Wendy Babcock Drag Show, Thursday night at Mock Trial is a hazy night of heckling and laughter. The festive mood often leads Obiter staff to trek down to the fridge in the office at intermission and return bearing gifts. Nonetheless, having volunteered to write this article, I promised myself before the show that I would try to remember the second act this year. Success was mixed. This is what I know:
1. Musical direction was stellar.
There is always vocal talent lurking in Osgoode Hall, and it came out to play at Mock Trial. Rosalind Ballanger, Joseph Cuyegkeng, Mitchell Rattner, and Hartlee Zucker obviously put in the hours necessary to give the performances something extra. The mere presence of harmonies on stage is a cut above in the world of law school variety shows. Rattner himself had an excellent turn as a sort of lawyer-Tevye in the second act opener "Tuition" (to the tune of "Tradition" from Fiddler on the Roof). The song lends itself to an ensemble performance, and the Singing Directors took full advantage. My congratulations. Congratulations are also due in particular to Busayo Ayodele, who waltzed out at the end of Act One and effortlessly (or at least it seemed that way) threw down several strong choruses of "Grades Fall" (to the tune of Adele's James Bond theme "Skyfall"). Way to go.
2. So was choreography.
You all know of what I speak. Tantalizing and mesmerizing, the Mance is a Mock Trial fixture that earns its revered status time and time again. I will not demean the performance by singling out any of the fine gentleman entertainers – they danced as one. For every second of Christina Aguilera et al's cover of Labelle's "Lady Marmalade", I sat, humbled, before these giants of glitter, these superheroes in suspenders, these Mancers. My mouth was probably hanging open a little bit. However, the highest praise in the room came from a certain friendly ghost who catcalled for the duration of the performance. Who let him in, anyway? Congratulations to Hilary Fender, Kate Henley, and Stephanie Marchello for successfully harnessing so much raw talent.
3. Sketches were consistently funny.
I'm sad to say that some past Mock Trials fell victim to the vortex that forms when alcohol and attention span come crashing together. Sketches can easily be too long; songs can have too many verses, and there can be too many of both. Not so in 2014. In particular, I recall "Zombies at Osgoode", in which two students stuck in the library following the zombie apocalypse weigh the legal implications of bludgeoning one of their former classmates, and the "Social Justice League", in which several heroes with questionable superpowers hash out their struggles in preserving access to justice.
Reprising past success were the Bad Idea Bears, though I must say one half of the disruptive duo has taken a turn for the provocative – there was a great deal more hip-thrusting than I expected from Jean-Paul Bevilacqua. Not that I'm complaining. Also returning was the ever-popular Drunk Cases. It's taken me three years to realize it, but the name of this sketch is a double-entendre: the participants attempt, despite their intoxication, and with varying degrees of success, to recount the facts of a case, which invariably involves someone doing something ridiculous or dangerous in a drunken stupor. In any case, this sketch was late in the show, so I don't remember the name of the case, and I don't remember who was in the sketch (though the Obiter's Dan Mowat-Rose talks about the aftermath of filming in this week's Jurisfoodence). All I remember is laughing like an idiot.
4. MTB delivers.
Lead guitarist Mike Sheps returned from Denmark and hit the ground running with this year's Mock Trial Band, which includes the Obiter's Alvin Qian, saxophonist extraordinaire, and Contributor Jesse Cohen, a closet harmonica virtuoso. This year's budget allowed the string section to rent wireless units, permitting a sortie into the crowd during one of the numbers, in which they stomped about on desks and generally had a good time. Also noteworthy was the minimalist performance of "Circle of Life", complete with animal costumes. Kwaku Tabi gets bonus points for that performance. If past years are any indication, this will not be the last time we see MTB this year. Here's hoping.
All in all, Mock Trial was everything one would expect from a law school variety show: plastic soda bottles with the wrong colour liquid in them, flasks, singing, dancing, laughs, and a capacity crowd pub night afterward. Producers Jean-Paul Bevilacqua, Hilary Fender, and Quinn Harris have done justice to the tradition.