In this, the first of a two-part Olympic post-mortem, I take a historic opportunity to bloviate at length about Canada's forgotten talent.
I'm not going to explain the game. If you want to know how to curl, take the 90 seconds to look it up on Wikipedia. To an outsider, cricket and American football are difficult to understand, but there's no use pretending that the roaring game is hard to learn. In fact, there's an old adage about curling: "the easiest game to learn, and one of the hardest to master." So I'll save my column inches for more important things.
Curling started in Scotland, and the country still has a strong tradition in the sport. In fact, despite representing Great Britain (a name that the International Olympic Committee inexplicably insists on using to describe the United Kingdom) every four years at the Olympic Games, no British curling team has ever come from England, Wales, or Northern Ireland. At the annual World Championships, the United Kingdom doesn't compete; Scotland does. This year, the Murdoch and Muirhead rinks both medalled. David Murdoch is a two-time world champion, and Eve Muirhead is the reigning world champion. This is Muirhead's second Olympic Games, and she is 23 years old. Not only are Scots skilled curlers, but the island of Ailsa Craig, less than 20 kilometres from the country's west coast, supplies the granite for more than 60% of the world's curling stones. Scotland has nothing to prove.
Curling also has a major presence in Scandinavia, especially Norway and Sweden. While most folks have primarily noticed the Norwegians' loud pants, Canadian fans will remember Pål Trulsen's victory over Kevin Martin in Salt Lake City to claim the gold medal. Furthermore, both Swedish teams also medalled in Sochi; the women are the reigning European champions and the men the reigning world champions.
The newcomers are the East Asian countries: China, Japan, and South Korea. All three finished in the middle of the pack in Sochi in both the men's and women's events, which shows remarkable progress for their respective programs. With more hard work and a bit of luck, one of them may crack the podium in Pyeongchang in four years. The Chinese men nearly did so this year, but a loss to Canada by the skin of their teeth at the end of the round robin kicked off a series of losses, and they finished in fourth.
Indeed, despite the sports strong roots in Scotland, the successful programs in Scandinavia, and the rise of East Asian talent, Canada resoundingly proved its curling dominance this year. To represent Canada at the Olympics, a curling team has to win enough prestigious events to qualify for a spot at the Olympic Trials, which were held late in 2013. One commentator remarked that the Canadian Olympic Curling Trials are an especially unique event. Imagine, he began, that two-on-two basketball became an Olympic sport, and that the United States held a week-long competition to determine which two of the best twenty basketball players in the country would represent them at the Summer Games. Any of the pairs qualifying for the competition would be good enough to win Olympic gold.
That's what the Canadian Olympic Curling Trials are like. All eight teams qualifying for the men's tournament appeared on the World Curling Champions Tour rankings; they were all in the top ten. All eight teams qualifying for the women's tournament appeared in the global rankings; they were all in the top fifteen. Any of the teams vying to represent Canada were good enough to win gold if they played well.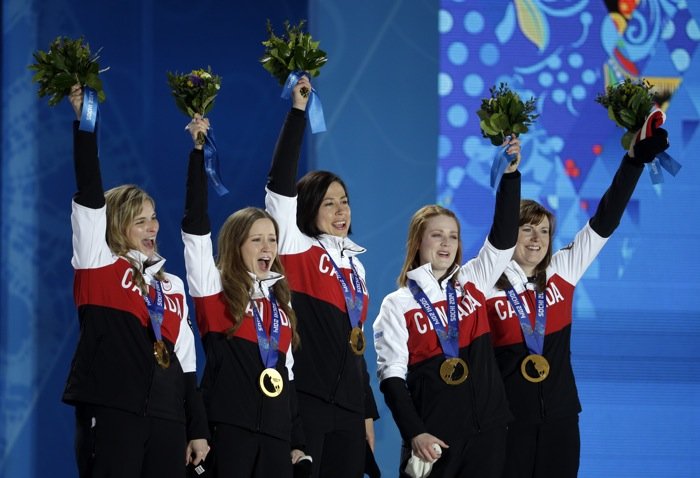 Of course, that doesn't always happen. Canadian women have been shut out from gold since 1998, when Saskatchewan's Sandra Schmirler won the first Olympic gold medal in women's curling. The women have never failed to win a medal, but inconsistent play under pressure and some questionable strategic decisions have cost them key games. Jennifer Jones didn't have time for inconsistency in Sochi. The team finished the round robin with an 86% accuracy rating, higher than any other team. Jones herself refused to miss critical shots, to the frustration of the entire field of teams, and was the only player in the tournament to have thrown 100% in a single game (against Sweden). The foursome went undefeated in the tournament, winning 11 games in a row.
The thing about curling is that it doesn't lend itself to league play like most professional sports. It doesn't make sense for a team owner to pay salaries to players; have them throw down 10 ends three or four times a week; barter and trade team members in the hope of accumulating the four best curlers in the world in one place, and then call them the Toronto Takeouts. First of all, the money to organize and sustain a league just isn't there. Curling only fills small or medium-sized arenas, only does so two to three times a year, and even that only happens in Canada. Second, players have things to do. We can all walk with our heads held high for the next four years knowing that the deserving Olympic champion Jennifer Jones is a lawyer. She competes on weekends, not in prime time. Finally, curling teams can't be managed like other teams. Players choose each other. Jill Officer and Jennifer Jones won the Canadian Junior Curling Championships together in 1994. They have been winning championships together since before I started curling later the same year. Jill struggled in some games in Sochi (though still finished the round robin as the most accurate Second), but the two obviously like each other, and create more value as teammates than a marginally better Second ever could. Team structure and chemistry is just as important as skill.
Team chemistry was also integral to the men's team in their gold medal performance this week. Brad Jacobs' rink from Sault Ste Marie began the week under a lot of pressure. They won last year's Brier (the Canadian Men's Championship) as a dark horse, the first team from Northern Ontario – which is a separate province in men's curling – to win since the legendary Al Hackner in 1985. They were still an unknown quantity at the trials, and surprised Canadians by beating stalwarts such as Jeff Stoughton, ranked number one in the world, and Kevin Martin, a two-time Olympian and the 2010 gold medallist. They went to the Olympics as an underdog: relatively inexperienced, and still new to the notoriously cliquey circle of dominant Canadian curling teams. Canada was also defending two consecutive gold medals in the men's event. To ice the cake, alternate player Matt Dumontelle was suspended for two years following the World Curling Championships after testing positive for an anabolic steroid, shaking Canadians' trust in the team.
Ultimately, the Jacobs rink shook all that pressure and won by playing a new, 21st century brand of curling. Growing up, when asked what sports I played, my classmates would jeer – "Curling's not a sport!" It's true that the game can be played without a great deal of exertion, especially for Skips; that prior to the Dumontelle revelation it was more likely that a curler would be caught drunk on the ice before being caught using performance-enhancers, and that more than a few of the country's best curlers have been on the portly side (though I would be remiss if I did not point a finger at Major League Baseball players, whose average body mass index of 27 is 2 points above the upper limit for a healthy person). Most people who deride curling's athletic demands and later try the sport are quick to recant on Sunday after playing in a three-game Saturday bonspiel (that's curling for tournament) and waking up feeling like they just did 1000 push-ups, cycled 15km – all in the cold – with a splitting hangover to boot.
Indeed, the boys from the Soo won by treating curling like a sport. They work out 5 days a week, year-round; they follow a strict diet, and they employ a sports psychologist to help them manage their mindset. It worked. The team are obviously in peak physical condition. Their leg strength allows them to throw the weight necessary to compete at the highest levels of men's curling, and the sheer mass carried by Lead Ryan Harnden, brother and Second EJ Harnden, and Third Ryan Fry puts them at a distinct advantage as sweepers, with both arm strength and body weight driving their brooms into the ice. Similarly, the presence of the psychologist has improved their game. The team has been known, in the past, for being aggressive on the ice: always sportsmanlike, but emotional. British coach Soren Gran expressed his dislike for the way the team carries itself on the ice before Friday's gold medal final, stating that the vocal celebrations of good shots and the slamming of brooms on the ice after bad ones is unprofessional.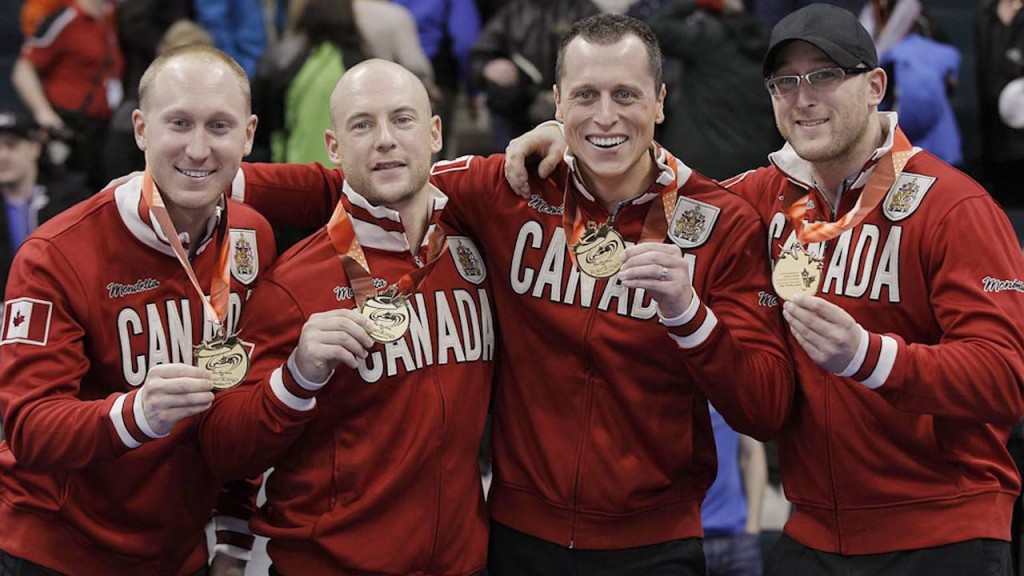 I take issue with Gran's characterization of the team; it's outdated. The foursome definitely turned heads with their abrasive style at past tournaments, but they were all simultaneously neutral and confident this week, especially Jacobs. This is surely a testament to the presence of the psychologist. Celebrations came when they were deserved, mostly after prodigious sweeping turned a mediocre shot into a stellar one, but the team never celebrated an opponent's missed shot (which is more than can be said for the Russian spectators). The broom slamming was kept to a minimum, as far as I could tell.
Both teams exhibit one final quality that clinched the historic double gold medal that no country has ever accomplished before: they are tireless on the ice. At the Olympic level, teams rarely seize a runaway lead in the early ends, if at all. The winner is the team that outlasts the other, sustaining their high performance until the opposition makes a mistake. Both Canadian teams had a knack for stonewalling their opponents until their wheels came off. It was never more evident than it was when Jacobs took on Liu Rui's Chinese rink in the round robin. Liu was a curling machine, taking an early lead, but mistakes late in the game allowed Jacobs to catch up and make a precision shot to win. Discouraged, the Chinese lost a second game in a row to Canada, and then lost the bronze medal game to Sweden. Never before have both Canadian curling teams won gold. This first is well-deserved.
The final point I want to make is about all the sudden curling fans crawling out of the woodwork. This happens every four years. I'm not a curling hipster – the more fans, the merrier, as far as I'm concerned. All I'm saying is that if the sport isn't top-of-mind for someone, they tend to forget about it until the next Olympic Games, when they find themselves suddenly enthralled all over again. My point is that these folks should think about giving it a try.
Let's face it: curling makes for great television. Once they learn the rules, everyone becomes an armchair Skip. It's easy to get pulled into talking strategy during a curling match, and the pace of the game is slow enough to facilitate this. It's engaging. The Canadian Curling Association estimates its average minute broadcast audience for the Brier regular draws (ie. not playoff or final games) at 619 000. That's higher than the same figure for the average Blue Jays game, CFL game, Monday Night Football, or The Masters. It almost makes you want to go out and curl.
In 2011, a study from the University of Waterloo estimated that 653 000 Canadians curl, but it's impossible to know how many are merely curious. It's easy enough to play that it's not frustrating, and almost anyone can do it (wheelchair curling is popular, and equipment is available for people with other mobility limitations). It's cheaper than hockey or golf. It's a social game. It's fun. Following the Vancouver Olympics, curling viewership increased by 50% over pre-2010 figures. Millions of Canadians are watching the game, and every single one should think about playing it. So should you. If a lawyer can win a gold medal, how hard could it be?