I came across a story this weekend that struck me on a personal level for several unexpected reasons. The story began with a real estate listing, a semi-attached commercial space at 716 Gerrard Street East, listed for $539,000. I didn't know the building, nor was I familiar with the area, but it was the subject of the story, the late resident of the space, that drew my attention.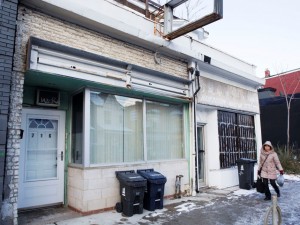 From the early 1920s until her death in 1960, the upper floor of 716 Gerrard served as the residence for Russian Grand Duchess Olga Alexandrovna, the last surviving sibling of Tsar Nicholas II. Staring at the picture of the building, I found it almost hard to believe. Like something out of a movie, here in Toronto had lived the member of a royal family, cast into poverty by national uprising and revolution.
I immediately wondered if my grandmother knew she was here. My great grandparents had left Russia for Canada at the turn of the century, while the Tsar was still in power, and settled in Toronto in the 1920s as well. Did they know that a member of the family that inspired their migration was now in the same city? Did they know she had gone from a $453-million St. Petersburg palace to a dilapidated flat a few neighbourhoods away? These questions fascinate me, but I'll never know the answer.
Olga Alexandrovna was born in 1882, younger sister to Tsar Nicholas II, who had four children whom Olga attended to during her teenage years. Youngest daughter of Alexander III and Empress Marie, the Grand Duchess lived in Russia until 1920. After Nicholas II and his family were executed in 1918, Olga went into hiding, moving first to Denmark until threatened by Stalin and accused of corroborating with Germany. Olga left Europe for the United States and eventually settled in Cooksville, Ontario, and then Toronto. In the city, she lived with Russian friends who ran a beauty salon on the main floor of a semi-attached apartment, at 716 Gerrard.
The highest ranking member of the Russian imperial family to come to North America, Olga lived out her days in a small room on the second floor of the building until she passed away from cancer at age 78. Having once owned a palace complete with its own church, greenhouse, and 70-person staff, she lived modestly after the collapse of the Russian Empire. During the height of the family's reign, Nicholas II had a personal wealth over a trillion dollars. When Olga came to Canada, according to a family friend, she gave possessions away with little regard, eventually settling on Gerard with only a couple trinkets and a photo of her husband, Colonel Kulikovsky, in hand.
The apartment is now up for sale, likely to be gutted and refitted for commercial use. I don't know if there's one morale that jumps out of this story, but it strikes me that Olga's tale says a little bit about a lot of things. I can't imagine that as she strolled through the hallways of her palace she ever contemplated winding up in a room on Gerrard Street, and yet that's where she ended up spending most of her life. I also can't imagine that my great grandparents would have ever dreamed their daughter would one day have more wealth than the Grand Duchess of Russia, but as it turned out, Olga lived and died with none of her family's fortune.
Given the approaching end of 2014, Olga's story can lend important perspective to not take anything for granted when life's experiences are so often fleeting. Few of us will ever experience the stark contrast between wealth and poverty that Olga went through, but it still likely that many of our lives will change significantly from this point. Looking towards the New Year, I can't help but wonder if any of our current "empires" are about to fall, and if my neighbourhood will one day house a former tyrant or oligarch.
It's a strange musing, but one that has new-found credence given the story of the Grand Duchess. Her history is truly as fascinating as the home she left behind is ordinary. Olga's story tells us something about the uncertainty of the economy and the future, and the vulnerabilities of our families and ourselves. It speaks to the dangers of power, the risk of wealth, and the inevitability of change. Lastly, I think this story tells us something important about the line between expectation and reality, and the many surprising ways in which it can be redrawn.
With reference to: http://news.nationalpost.com/2014/11/21/for-sale-the-final-residence-of-tsar-nicholas-iis-last-surviving-sibling-a-dilapidated-semi-in-toronto/