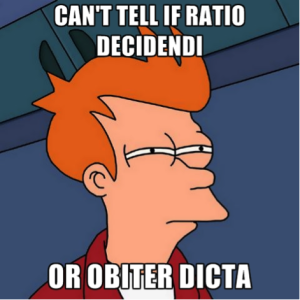 Checking in at the mid-way point of my term as Editor-in-Chief to review the year so far, and look ahead to the upcoming semester.
When I started at Osgoode in 2013, I was drawn to the Obiter Dicta because it offered an open and inviting opportunity both for writing, and as a student organization to be involved with. Now approaching the end of 3L, my time with the Obiter has met and exceeded all my expectations.  I'm hoping to make the most of my last semester to help grow the newspaper for the future. With that said, here's what we're working on for 2016 and beyond:
Ongoing Projects
When I stepped into the Editor-in-Chief role this summer, one of the first things in mind was to grow the Obiter. Over the fall semester, it's been great to see the response from the student body as the Obiter staff has grown, and with it, the size of each publication. Having more writers and editors on board has helped solidify each of the newspaper's section, and has helped bring exciting new ideas and perspectives to the organization.
Along with the growth of the Obiter staff, we have been working to improve the Obiter's internal structure. This may not be the flashiest task, but thankfully, I've been surrounded by enthusiastic peers willing to help ensure the Obiter has a functional and lasting administrative structure. Our hope is to set the Obiter up to be a proficient and reliable newspaper and online platform for students to share ideas, draw attention to important stories, and learn about relevant events.
New Obiter Sections
The Obiter will be introducing three new sections to the newspaper and website. We're hopeful to have all three sections up and running over the course of the winter semester. The goal behind all three is to create engaging and relevant content for the Osgoode student body.
The Club's Corner: this section will be dedicated to allowing Osgoode students to contribute content specifically related to organizations they are involved with. This could be a review of the organizations work, an article about an upcoming event, or other content an organization would like help publicizing.
Alumni Interviews: the goal of this section is to interview Osgoode alum about their Osgoode experience, and how that experience ties in to their current employment or work. There's a whole spectrum of alumni out there, and, personally, I'm looking forward to hearing some of their stories!
Intensive Interviews: well, not just interviews, this section aims to look into student experiences in the clinical and intensive programs at Osgoode, to provide some much needed first-hand perspectives and opinions regarding the experience.
Community Outreach
A long-term goal for the Obiter is to engage in more community outreach with the student body, the faculty, and Toronto's legal community. During last year's strike, I saw the Obiter become a platform for students to express a number of opinions, and a source for students, faculty, and community members seeking out news on strike developments and discourse. That experience showed me that the Obiter can have real value in helping leverage students' ideas and opinions within the larger legal community.
Our goal moving forward is to increase our social media presence, increase our visibility at Osgoode events, and create more content regarding stories and events at Osgoode and in the local legal community. Ideally, these efforts will help improve the Obiter's reach, and its ability to serve as an effective platform for the Osgoode student body for years to come.
These projects are only as good as the people behind them. I've been so fortunate over my time at Osgoode to work with some amazing colleagues who have helped the Obiter through all its challenges and successes. If any of what you've read seems at all of interest, I strongly encourage you to get involved come next fall. The Obiter has a number of opportunities for students, and many of them are flexible and adaptable to your schedule. If, like me, you're approaching the end of your Osgoode tenure, I would still encourage you to submit an article, stop by a meeting, or email us if you have any thoughts or ideas. When I first stopped by the Obiter office in 1L, it was one of the most welcoming experiences I had at Osgoode, my hope is to keep the doors wide open for next semester, and beyond!
Happy New Year!