Gender still influential in perceptions of "fair process"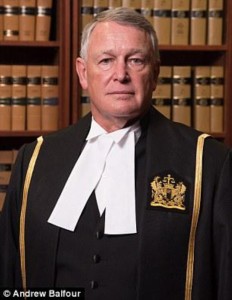 On 7 January, it was announced that Alberta Attorney General Kathleen Ganley has moved for the Canadian Judicial Council to skip the review panel phase of its investigation into the conduct of Federal Court Judge Robin Camp and move directly into the formal inquiry phase.
Camp made headlines last autumn when criticism began to mount over comments he had made in judgement of a 2014 rape case, R. v Wagar.
As Obiter Dicta contributor, Esther Mendelsohn, wrote last November, Camp's judgement of the case revealed that he was relying on outdated rape narratives that—theoretically at least—no longer have any place in Canadian justice. Rather than focusing on the conduct of the accused, Camp repeatedly made comments that required the accuser to defend her own behaviour, placing the onus on the victim to explain why she wasn't able to defend herself against her rapist.
"Why couldn't you just keep your knees together?" Camp asked the 19-year-old woman. "Why didn't you just sink your bottom down into the basin so he couldn't penetrate you?"
The accused was acquitted, with a warning to be "more gentle with women."
Canadian legal reformers and activists have worked long and hard to undo these dangerous and influential rape myths. As we all know, there is no such thing as "implied consent" in modern Canadian law—yet Camp's judgement reflected the pernicious underlying idea that people who are victims of sexual attacks are responsible for justifying their choices, as though they are somehow responsible for another person's decision to rape them. His reliance on this long-debunked myth that as long as the victim does not clearly articulate a "no" it's not rape, indicates that he does not have a strong grasp on the reality of rape. More worryingly, even though he is a judge, he does not fully understand the law of sexual assault in Canada.
The case has since been sent for a retrial. Camp's judgement has been thrown out, but the fact that a trial judge (as he was as the time) was able to write a judgement like that with confidence indicates that something is seriously wrong within the culture of the judiciary itself—and it is precisely this concern that is motivating Ganely.
The CBC reports that Ganley says that the decision to move straight to the formal inquiry into Camp's conduct was a difficult one to make, but was motivated by the public attention on the case. Maintaining public confidence in the justice system requires that justice be done, as well as be seen to be done. The fear is that Camp's comments will have a chilling effect and discourage victims of sexual assault—who are already extremely likely to underreport—from coming forward with their accusations.
As Mendelsohn points out, Camp has a long history of dubious judgements when it comes to sexual assault cases, and the fact that it took until 2014 to be able to engage in substantive criticism of those judgements is almost as surprising as the fact that a judge made those comments in the first place.
When criticism of the case began to mount, Camp agreed to not sit on any cases of sexual assault for a temporary period. In late November, he further agreed not to sit on any cases at all until further notice—although by that time, he had already been promoted to
the Federal Court by then Justice Minister Peter McKay.
The question of whether public opinion is a legitimate mechanism to insist upon legal change or accountability is an extremely fraught issue. Certainly Camp's lawyer, Frank Addario, attempted to tap into this tension when he observed that he was "troubled […] by the public campaign for Justice Camp's removal." Although Camp's colleagues were the ones who brought the complaint, it is clear that public opinion is spurring this most recent activity.
Certainly due process is crucial—but equally important is the need to ensure that judges of all people are held accountable for their perceived errors. Unlike the legislature or the executive, which are answerable to the democratic voice, the judiciary has only the appearance of impartiality, fairness and independence to rely upon to defend its integrity.
If a judge gets the law wrong, that needs to be addressed, as it brings the reputation of the judiciary into question.
If a judge has a history of relying on dangerous and debunked cultural myths in sexual assault cases, that must be addressed, too, as it indicates a broader failure on the part of the judiciary to deal fairly with victims' injuries and complaints.
As a final note, it is worth comparing Camp's moment in the spotlight with that of Judge Lori Douglas, who in 2014 retired from the Manitoba judiciary after nude photos of her (posted without her permission) surfaced online. She offered to retire instead of proceeding to a panel that had the power to find her guilty of misconduct by engaging in activity that would bring the judiciary into disrepute.
The difference in the way the two judges have been treated by their peers and the public is worthy of consideration—there is a male judge whose immensely harmful misapplication of the law (informed by archaic ideas about gender) is receiving the due process he deserves, on the other hand, a female judge's personal behaviour that harmed no-one, was deemed transgressive enough by her peers to warrant ending her career in the judiciary.