The Obiter's review of Osgoode's penultimate hiring experience.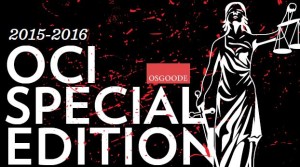 Today's publication marks the penultimate edition of the 2015/2016 Obiter Dicta. As we approach the end of  another year, this issue also fittingly serves as our first foray into one of Osgoode's most exciting, and notorious, opportunities: On-Campus Interviews. OCI's mark for many of us the last hiring process before we seek out articling positions, and yet this moment of transition is also a source of polarity and divisiveness among students.
The OCI Survey and Special Edition come thanks to the dedicated work of Obiter staff member and Osgoode student Michael Motala. Michael did a truly amazing job coordinating with Ultra Vires at the University of Toronto, disseminating the survey, collecting the data, and putting together the Special Edition's content and layout. It was an enormous task for a team, let alone one student, and we couldn't be more appreciative of Michael's work, or more proud to present the final product to you now.
With two thirds of OCI participants responding to our survey, we are confident that the Special Edition gives a useful and informative look at student impressions of the OCI process. The Special Edition begins with a review of some of the most pertinent and important results, and some of the stand-out data. The Edition goes on to an analysis of hiring trends and the makeup of the student population. It concludes with student comments and opinions on the OCI experience.
Our aim was to include the information and opinions that added to, and helped inform the discussion on the OCI process. With hundreds of student responses to review, subjectivity was unavoidable in deciding how to assemble the Special Edition. Though we made every effort to ensure neutrality in the collection, analysis, and reporting of the OCI survey, we recognize that improvements can always be made. We welcome, and strongly recommend, students to contact us with their ideas and suggestions for the future of the OCI Special Edition.
If you walk around asking Osgoode students their thoughts on OCI's, you're likely to get quite the spectrum of opinions. In reviewing the survey results, analysis, and student comments, we saw everything from disgust to jubilation. The data itself reveals a mixed picture, arguably a worse hiring situation, or a better one, than what was previously thought…depending who's opinions. What is clear is that the OCI process is not an unequivocal success, not yet at least. It does not guarantee a job, nor is it a guaranteed positive experience. Does it have a duty to be? That is for the reader to decide.
We hope that the Special Edition will provide you with an interesting look into the student experience with the OCI process. OCI's are not for everyone, but they are an undeniably important part of law school. We hope that this survey and reporting will serve as a valuable tool in increasing the dialogue around OCI's, and doing so from a position of knowledge and awareness. A huge thank you to Ultra Vires for working with us on this project, and to Michael for all your hard work.