Dr. Kenneth Lam's Two Cents As Arm Chair GM: Part Two
Source: The Toronto Star
While there are many uncertainties with how draft picks would turn out, one thing is certain: Toronto head coach Mike Babcock thinks highly of Maple Leafs prospect Auston Matthews. However, rumour has it that the Leafs' bench boss is thinking of starting the rookie centre up the middle on the third line behind veterans Nazem Kadri and Tyler Bozak, which scratches the heads of multiple pundits, especially considering that the Scottsdale, Arizona native is a well-documented prodigy.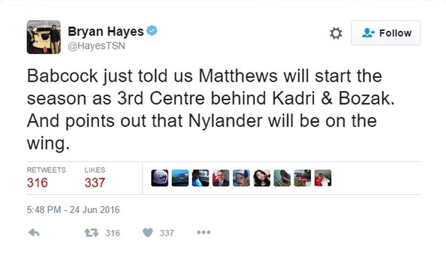 Source: Twitter
There is no question that Matthews possess all the tools that could see him become a franchise centre in the not-too-distant future. Playing for the U.S. National Team Development Program (NTDP)'s Under-18 Team in the United States Hockey League, he put up an impressive 116-point campaign for the 2014-2015 season by scoring fifty-five goals and registering sixty-one assists in sixty games en route to breaking 2015-2016 National Hockey League (NHL) scoring champion Patrick Kane's NTDP single season record of 102 points set in the 2005-2006 season. Matthews' stock is also at an all-time high after having the rare distinction of playing for Team North America in the 2016 World Cup of Hockey (WCH) before appearing in a single NHL game— representing his country on a best-on-best completion internationally—a feat not seen since Eric Lindros played for Team Canada in the 1991 Canada Cup, before making his debut in the NHL. Matthews' recent ascension to stardom, in which he played himself onto the first line of Team North America to form a dynamic duo with future Edmonton Oilers captain Connor McDavid dubbed as "Team North America 1-1 punch" in the 2016 WCH despite initially making the roster as its thirteenth—essentially extra—forward is all the more remarkable and a testament of Matthews' enormous potential. Thus, it is not surprising that a number of scouts have gone so far as categorizing Matthews to be a "generational player," a title reserved for the likes of Pittsburgh Penguins captain Sidney Crosby, McDavid, and arguably Washington Capitals captain Alexander Ovechkin, since the term was popularized a decade ago at the onset of the Crosby era. But is it necessarily in the best interest of Matthews and the team by crowning him as Toronto's first-line centre from the get-go of the 2016-2017 NHL season?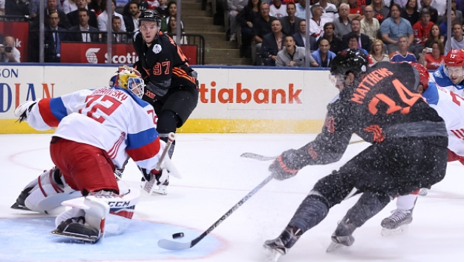 Source: Canadian Broadcasting Corporation (CBC)
Matthews as the Blue and White's First Line Centre:
Penciling Matthews in at the Maple Leafs' centre on the first line would appear logical at first glance. After all, he is the most skilled centre the Leafs have on the roster and the one with the most upside by far. He is also physically matured enough to handle the competition having played against men this past season when he suited up for Zürcher Schlittschuh Club Lions in the National League A (NLA) out of Zürich, Switzerland where he went on to win both the NLA Rising Star Award and the NLA Youngster of the Year award (which is bestowed to the league's top rookie) in addition to finishing second in voting for Most Valuable Player. Yet, subjecting the nineteen-year old Matthews to face the top centre of an NHL opponent on a nightly-basis is a tall order, as the physical demand may wear Matthews down over an eighty-two game schedule, considering that he has never played in more than sixty games in a season as an amateur and no more than thirty-six games in a single season as a professional. Also, in order to maximize Matthews' effectiveness, the Leafs would need to match him with wingers who can play on the same level. Such players would have to possess elite hockey sense and soft hands, as well as foot speed in the form of explosive acceleration and top-end velocity. Even though James van Riemsdyk may be the best winger Toronto has on paper, the only winger who owns all three aforementioned ingredients is Mitch Marner (and arguably William Nylander if Babcock were to decide to shift him to the wing for the time being). Do we really want to have two-thirds, if not the entire first line, comprised of rookies? As talented as the trio of Matthews, Marner, and Nylander may be, this is a bold move, if not a dangerous proposition as all three lack NHL experience which can be exploited by opposing teams, at least in the short run. In the event that the trio stumble out of the gate and fail to generate offence, the setback could also compromise their confidence. So it is better to play it safe by dropping Matthews down the depth chart at the start of the 2016 to 2017 NHL campaign.
Matthews as the Blue and White's Second Line Centre:
Slotting Matthews into the role of second line centre for the Maple Leafs makes more sense but is still risky as he would have to play against the opponents' top-six forwards each game. In this hypothetical, van Riemsdyk would not be Matthews' winger by default since the former would be paired up with either Kadri or Bozak on the first line. Injuries are still a genuine possibility due to the wear and tear of playing relatively taxing minutes continuously. Case in point, McDavid, who was shuffled between the first and second line, ended up playing in only forty-five of Edmonton's eighty-two games in 2015 to 2016 because he suffered a broken left collarbone in a 3 November 2015 game against Philadelphia, when he fell awkwardly and slid into the end boards after tangling up with Flyers' defencemen Brent Manning and Michael Del Zotto.
Matthews as the Blue and White's Third Line Centre:
From a developmental position, having Matthews patrol the Leafs' third line to start the 2016 to 2017 NHL season is sound as Babcock would be able to create a "kids line" or "rookie line" with Marner on right wing and Nylander on left wing—assuming that all three players make the team out of training camp. Not only would this line combination feature a ton of youth and skills, but assigning the three youngsters to third line duties allows Toronto to shield all three of them from tough minutes as they progressively find their ways and establish themselves in the league. As an added bonus, in rolling out Matthews, Marner, and Nylander on the same line simultaneously, the team would also have the security of having two "backup centres" in Marner—seeing that he played centre with the London Knights late last season even though he predominately played right wing—and Nylander—who is a natural centre but also plays left wing—to take face-offs if needed in case Matthews gets waived out of the face-off circle. Better yet, this arrangement, i.e., shielding the trio from the opposing team's best players by getting Matthews, Marner, and Nylander to play protected and safe minutes per se buys the Maple Leafs' time to develop the three prized young guns. When the three of them, particularly Marner and Nylander, get more mature physically—by adding needed physical strength, they can be moved up collectively to the second line and then subsequently to the first line. In many ways, keeping the three of them on the third line to start the season is meant to ease them into the league and to allow them to develop chemistry on the ice as linemates.
Matthews and Organizational Depth:
In regards to the Leafs' organization with Matthews in the fold, all indications are that Toronto needs another draft with a top five pick—so that the Maple Leafs can select a franchise-caliber defenseman (e.g., Timothy Liljegren) to anchor the blueline/complement Morgan Rielly for the next decade—and another draft with a top ten selection—so as to allow the team to choose a franchise-caliber goalie (e.g., someone with similar traits to Carey Price and/or Tuukka Rask) to develop and man the net in case newly-acquired starting goalie Frederik Andersen performs below expectations. Therefore, by suppressing the minutes of Matthews, Marner, and Nylander via deploying them to the third line, the Leafs can legally continue their "tank" job for the purpose of securing high picks in the next one or two drafts, though I can't image that Toronto will finish in last place (like the team did in the 2015-2016 NHL season) in either of the next two seasons. On a related note, by giving top minutes to solid, but unspectacular, players such as Bozak, Kadri and van Riemsdyk, Maple Leafs General Manager (GM) Lou Lamoriello can simultaneously boost their statistical output and increase their trade values in case the Leafs GM decide to move one or more of them as trade chips at or near the 2017 NHL Trade Deadline.
Final Words:
So there you have it. For those who question Babcock's decision to have Matthews centre the third line at the dawn of the 2016 to 2017 NHL season, there is a rationale behind Babcock's 'madness.' Given Babcock's unmatched coaching resume, whereby he is the lone coach to have obtained membership to the Triple Gold Club—by virtue of his Stanley Cup championship with the Detroit Red Wings in 2008 as well as guiding Team Canada to the Gold medal at the International Ice Hockey Federation (IIHF) Ice Hockey World Championships in 2004, the 2010 Winter Olympics in Vancouver, and the 2014 Winter Olympics in Sochi, Leafs Nation ought to have faith in him. In Babcock we trust!