A Reflection of the 25th Annual Animal Law Conference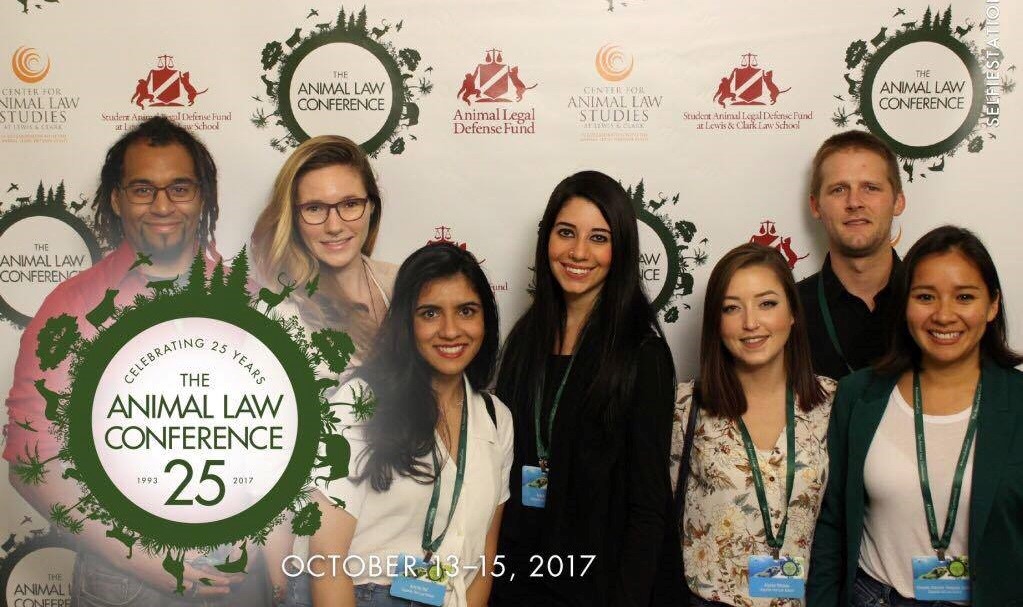 One of the very first things law students learn in law school is that there is a huge issue of accessibility in the legal system for many groups. One group that most law schools fail to recognize is non-human animals. Even broader, legal systems across the world fail to give non-human animals the recognition and justice they deserve as creatures capable of thought and emotion. To learn more about this gap in law, on October 12th, seven members of Osgoode's Student Animal Legal Defence Fund (SALDF) were a part of 400 people around the world who travelled to Portland, Oregon to attend the 25th Annual Animal Law Conference, hosted by Lewis & Clark Law School and the Animal Legal Defence Fund. There, we learned about the current state of animal law, growing trends, and continuing obstacles as animal law becomes a growing field in the legal community.
The event kicked off with a student conference, where a panel of seven professionals practicing in animal law spoke about the range of opportunities in animal law including private practice, working at an NGO, and animal law education. The Mother of Animal Law, Joyce Tischler, spoke to students about the bright future of animal law and reinforced students as the drivers of the future of animal rights. Afterward, members from various SALDF chapters across the United States discussed their strategies for spreading the animals rights message through law.
In the evening, the formal conference commenced with a reception and keynote presentation by Pamela Frasch and Joyce Tischler. Their presentation reviewed the past 25 years of animal law and praised the animal legal community for the growth of the movement. They made specific reference to the 1st Animal Law Conference, where the discussion revolved mainly around the protection of wildlife, and shied away from the more 'radical' views of animal rights. Now, at the 25th Animal Law Conference, all shyness and politeness where thrown aside and the women shared the collective goals for animal law in the future. These goals included legal personhood for each individual animal, a stop to cosmetic and research testing on animals, an end to factory farming, no animals in captivity, and worldwide veganism. Attendees were left in excitement for the legal future of legal rights and an eagerness to attend the conference in the days to follow.
The first panel of the conference addressed factory farming and how to use the law as a tool to stop the serial torture and slaughter of animals. Because there are few laws that apply to animal rights in factory farming, the panel addressed how other laws can be used in a creative way to support captive animals. The three major tools of the law mentioned were enactive legislation through voting and political pressure, passing regulations (of course, not as effective as legislation), and litigation—where civil actions can be used to fight captivity, and animal rights groups can intervene in major cases. Also discussed in this panel was the misuse of the term 'organic' and other misleading packaging on animal products. In these cases, misleading advertising laws can be used to discipline marketers and reveal the truth about how animals are treated on farms.
The next panel addressed non-human animals and victimhood. Here, the audience was first sobered by the memory of slaves and women historically being treated as legal property and their inability to be legal victims of crimes. Presently, animals do not possess legal personhood, but can be viewed as victims of crimes if police and prosecutors are educated in animal law. Prosecutor Allie Phillips focused on the importance of recognizing animals individually in cases of hoarding, and the recognition of companion animals as victims and tools of abuse in cases of domestic violence.
After a delicious vegan lunch, the conference resumed with a panel addressing the sexist and racial issues which persist in the animal rights movement. The audience was reminded that despite the claim to compassion for all creatures, biases and harassment (whether intentional or not) are still an issue within the animal rights community and in animal rights organizations.
The last panel of the day spoke about retired entertainment animals and the use of animal sanctuaries as a place of rescue and recovery. Ed Stuart, co-founder of the Performing Animal Welfare Society, highlighted the panel with his tales of working in the entertainment industry as an animal trainer alongside the late Pat Derby and his transition to opening three sanctuaries for abused or abandoned entertainment animals, including elephants, tigers, and bears.
The keynote presentation of the evening came from author Jonathan Balcombe. Materials presented from his book, What A Fish Knows, shed light on the scientific discoveries about the capabilities of fish to think, feel, and build relationships. He spoke about studies in which fish could recognize human faces, recognize humans as predators or non-predators in spearing communities, strategically hunt with other fish for food, and enjoy the pleasures of being pet/massaged.
The next morning brought an exercise of ethics and issues that arise when animal rights organizations have conflicting interests (i.e. when one organization champions for better living conditions in factory farms, while another fights for the total eradication of factory farms). The following panel presented emerging animal rights movements in France and Zimbabwe and their challenges.
The last panel of the conference presented materials on actions against animal abusers and the issue of defendants moving evidence to hide their crimes (e.g. relocating abused animals to other facilities). Personhood was raised again in a recent case in Argentina that recognized the legal personhood and rights of Cecilia, a captive chimpanzee (see Mendoza et al v Argentina). In addition, Naruto the selfie-taking monkey, still holds the right to a civil action in copyright against the photographer who profited from the photos taken by the ape.
The Conference also highlighted the opportunities for students who wish to get involved in animal rights beyond their local SALDF chapter. Lewis & Clark Law School offers an LL.M. program in Animal Law Studies, which also offers full scholarships (tuition and board) for three international attorneys each year to study in Portland, as well as other financial aid. Harvard Law School also offers an Animal Law and Policy program, with possibilities of receiving a scholarship or a low-income protection plan.
Future animal rights and animal law conferences include 7th National Animal Cruelty Conference of the Association of Prosecuting Attorneys (15 November 2017, Portland Oregon) and 9th Annual CLE: Animal Law Practice Areas: Far and Wide (15 December 2017, New Orleans, Louisiana).
For more information on upcoming animal law events, visit: http://aldf.org/resources/animal-law-events-opportunities/events/
For more information on student clerkships, internships & fellowships, visit: http://aldf.org/resources/animal-law-events-opportunities/clerkships-internships-fellowships/
Osgoode's SALDF gives great appreciation to the Animal Legal Defence Fund and Osgoode's Dean's Office for partially funding our adventure and indulging us in our passion for animal rights law. From attendees Samantha Skinner, Claudia Daniela Vazquez Juarez, Sarah Levy, Amrita Pal, Alyssa Warias, Luther Kadima, and Matthew Browne, we sincerely appreciate the opportunity and look forward to the 26th Annual Animal Law Conference!