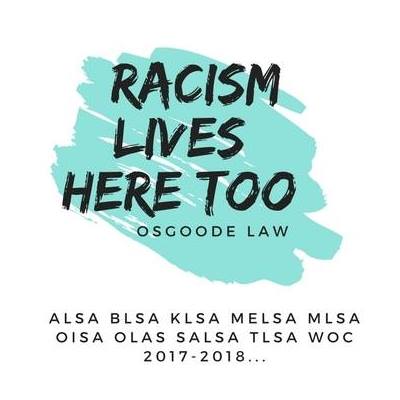 Embracing the #RacismLivesHereToo campaign at Osgoode Hall Law School
My excitement in coming to Osgoode was unparalleled: the first day of the legal career for the first lawyer-to be in the family. I couldn't wait for all the intellectual discussions with like-minded people who were here to make the world a better place. To my shock, on my first day of school, I was asked by a few peers about whether I am "an open-minded Arab, or one of those hardcore pro-Palestine guys". It was the same day that many of my new peers repeatedly complained about their discomfort of being close to the Jane & Finch neighbourhood, a community with a large POC and Muslim population (and one that has historically been a haven for immigrants). They talked about how they would never go to any of the grocery stores in the area, and how 'weird and scary' the people there are. It was the same week where I had some peers complain to me about how the school's holistic admission is decreasing Osgoode's academic reputation and quality.
All said with a smile and a level of tone deafness and insensitivity that only the highest level of white privilege can afford you.
When I raised my discomfort about those comments with some of my peers, I was met with a statement that later became all too familiar: "You are overthinking it. Racism doesn't exist in the Osgoode community."
That all set the tone for my next three years at Osgoode.
"Racism doesn't exist in the Osgoode community."
Since my first week here, I have had my fair share of experiences that have left me feeling ostracized and exhausted. My fair share of peers bashing Islam, refugees, or other racialized groups on their social media (or even in classes) under the guise of intellectual discourse or social commentary. Hearing the utterance of the N-word in many social gatherings, and the avid defences for why "it's okay for us to say it", and "we obviously didn't mean it that way".
Being called out in class to comment on the teachings of Islam despite never volunteering. Having to sit in classes where the complexity and nuances of the Middle East are reduced to fleeting, patronizing generalizations and offensive stereotypes, with the instructor either actively facilitating such discussions or passively allowing them. Leaving the classroom shaking not only because of the offensive comments that were said, but because no one (student or instructor) opposed them.
I was still not safe from such comments even in environments centred around social justice. Participating in an internship in Morocco as part of Osgoode's International Legal Partnership, I was constantly faced with comments from my peers about how barbaric and backwards many of the Moroccans are, how the culture needs to be changed to mirror their European neighbours, and how colonization actually helped them. "If only Morocco was actually like what it looked like in the movies and novels."
Such experiences only scratch the surface of the day to day realities at Osgoode, and are by no means limited to just me. On the best of days, many law students are constantly made aware of their backgrounds and identities, and how they stick out like a sore thumb. On the worst of days, many of us are forced to defend our backgrounds and identities in front of everyone. Our experiences can range from 'subtle' micro-aggressions to outright hateful comments. You hear them in the hallways, in seminars, at social events, on social media, and everywhere in between.
Whenever any of the law students of colour speak out against such instances, our actions are often interpreted as an overreaction of, or a 'reading into', what was said. Even those who do see the offensiveness of the actions will still often choose to limit their anger only to the specific person instead of acknowledging the broader existence of cultural insensitivity, racism, and discrimination in the school.
"Racism doesn't exist in the Osgoode community."
When Osgoode's Black Law Students Association's displays (honouring Black History Month) were vandalized (the latest act in a series of anti-black racism in Osgoode spanning many years, all summed up in this report), one of the most common responses was that the culprit couldn't be from the Osgoode community — the idea of racism existing at Osgoode being somehow too shocking to be true. Sadly, while most of the law students of colour were very scared by the vandalism, many were not surprised by it at all.
To us, such acts are but a natural, inevitable manifestation of the subtle (and not so subtle) racism that spreads through the halls and classes of the law school.
Nor is Osgoode immune from anti-Indigeneity. You hear it in the Bistro, where students scoff at how much "Aboriginal and Indigenous law is being shoved down our throats" and how we all "need to get over it". The mocking snickers and eye rolls in the Moot Court as students watch an Indigenous person drumming and singing. You hear it in classrooms, where students claim (incorrectly) that the Gladue principles allow Indigenous individuals accused of a crime to get more lenient charges just by virtue of their ethnic background.
"Racism doesn't exist in the Osgoode community."
The students of colour often have to be the ones to shoulder the burden of systemic change at the school. They are the ones who often have to give presentations about racism, organize anti-oppression training, conduct broad consultations with alumni, professionals and other students, and constantly meet with the law school to discuss systemic changes. All to prove and combat a known reality to all of them: that racism (as well as other -isms) lives at Osgoode too.
"Racism doesn't exist in the Osgoode community."
Unsurprisingly, other law schools in North America experience this exact same issue. As a response, a group of women of colour started the #RacismLivesHereToo Campaign at Stanford, which was subsequently adopted at Harvard and NYU. In the campaign, an online form is sent out to the law school's community, asking members to anonymously submit their experiences of racism and discrimination at the school. These experiences are later posted around, either as posters at the school, or online.
As a group of students of colour at Osgoode, we believe that it is necessary for Osgoode to have a similar discussion. The online form is here. A link to the form will also be sent out to the student body as a whole via email.
While we are using the term "racism" (in line with the #RacismLivesHereToo campaign), we also welcome answers regarding other forms of discrimination (e.g. discrimination based on disability, religious identity, sexual orientation, gender, etc.)
Given the labour disruption, we will not be posting the submissions as posters throughout the school's halls this semester. Instead, a Facebook page will house these posters. The online form (and Facebook page) will remain open indefinitely. It is our hope that students throughout the years will continue submitting their experiences so that continuous discourse and change surrounding these difficult issues can carry on at Osgoode.
As this campaign continues in the 2018–19 academic year, in order to build a truly inclusive community at Osgoode, one where racialized and other traditionally marginalized students and communities feel more comfortable and equal to their peers, we implore future Osgoode administration, faculty and students to actively listen and respond systemically to the concerns that this campaign reveals. We also hope that submissions made will lead to future events at Osgoode, and broader conversations in the legal community as a whole. It is our goal that other law schools, especially Canadian ones, can pick up the campaign in their respective schools, and that we all work together towards creating a better learning environment for everyone.
We commend Osgoode faculty and administration for recently instituting the Indigenous and Aboriginal Law Requirement, and we implore future Osgoode faculty and administration to continue to actively follow through on the recommendations delivered by Black, Indigenous, racialized, and other equity-seeking groups and allies this past year and years previous.
Many of us, from the first day here, were hit with the harsh realization that racism doesn't just stop at the doors of Osgoode. The hope of this campaign is to ensure that one day, future students, faculty, and staff, never have to face that same realization. But in order to do that, many uncomfortable discussions and dialogues need to be had. This all starts with all of us collectively accepting a simple, yet hard, truth:
Racism does exist in the Osgoode community.
Sincerely,
A group of students of colour and allies at Osgoode Hall Law School*
*Osgoode's Black Law Students Association (BLSA), South Asian Law Students Association (SALSA), Osgoode Tamil Law Students Association (OzTLSA), Osgoode Indigenous Students Association (OISA), Muslim Law Students Association (MLSA), Osgoode Latin American Students Association (OLAS), Middle Eastern Law Students Association (MELSA), Asian Law Students Association (ALSA), Korean Law Students Association (KLSA), women of colour @ Osgoode (woc @ Osgoode), as well as the 2017/2018 L&L Equity Officer.