Strange things have been happening at Osgoode lately. On February 5, 2014, Dean Sossin was seen wearing a funny wig at Osgoode. Then, an email was sent about becoming the Dean of Osgoode.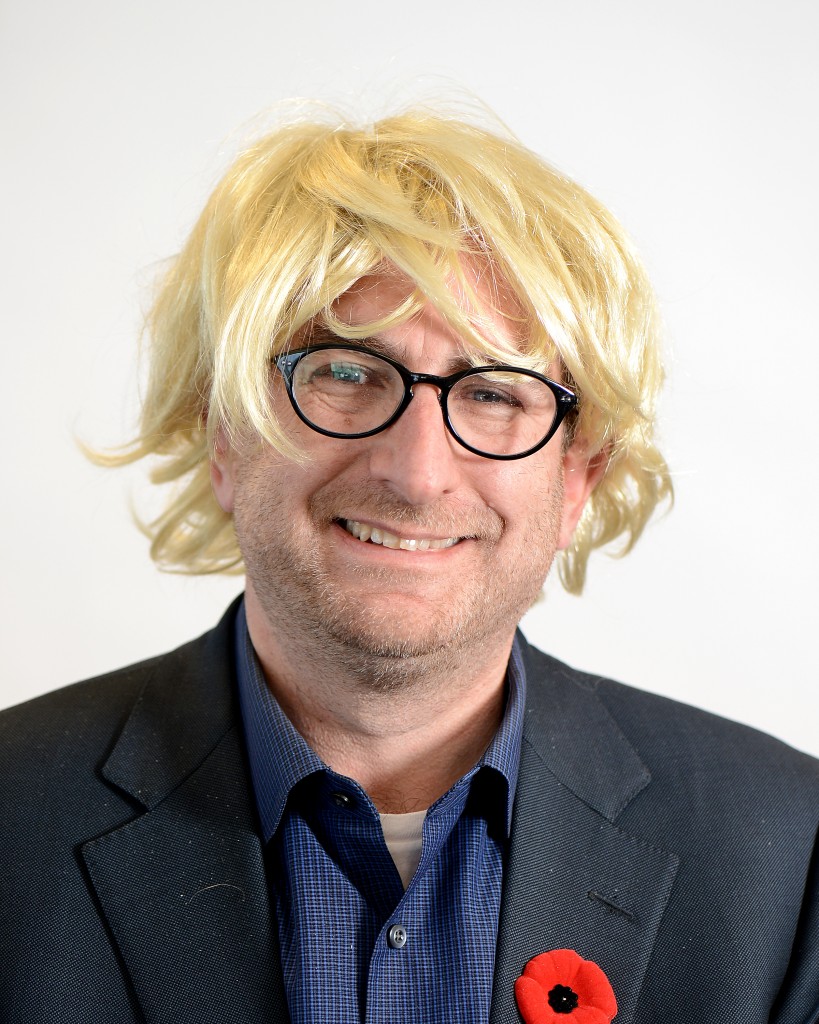 And now this, Dean Sossin wearing a clown wig somewhere downtown Toronto?! Has Dean Sossin quit his job, ran away and joined the circus? Well no, do not panic. I am here to tell you that everything is fine. That email you got is an invitation to be the Dean for a day. You don't get to keep Dean Sossin's job. About the wigs, well it is all part of "Flip Your Wig for Justice", a super fun campaign that may well become another yearly tradition like Halloween! But for lawyers and law students (and anyone else interested in access to justice issues), and for a good cause!
So, what is this "Flip Your Wig for Justice" business?
Flip Your Wig for Justice is an awareness and pledge-based fundraising campaign in support of access to justice in Ontario. It was founded by seven Ontario-based non-profit organizations (such as the Canadian Civil Liberties Association, Association in the Defense of the Wrongly Convicted, and Pro Bono Students Canada) all committed to improving access to justice by raising awareness, providing resources, and access to legal support. Together these non-profit organizations provide free legal help for people who are unable to afford a lawyer; they disseminate legal information to people who need help understanding their legal problems; pursue justice for individuals who have been wrongfully convicted of a crime; educate youth about the legal system and their rights and responsibilities as Canadians; expose rights violations in Canada; and encourage lawyers to donate their time to provide free legal assistance.
These organizations are endorsed by the Law Foundation of Ontario, Law Society Treasurer Thomas Conway, Deans of all Ontario Law Schools (including our very own Dean Sossin), Humber College's School of Community Services and law firms, including Dentons Canada LLP and Borden Ladner Gervais LLP.
So now you are thinking, "this access to justice thing is great but what does it have to do with wigs?" For centuries, headgear has been worn in court starting in the early Tudor times with black flat bonnets or caps. While judges initially believed wigs were foolish and did not allow their use in court, wigs eventually became a mode of court dress.
By 1680 the majority of lawyers and judges wore wigs in court to follow the fashion of the day and represent wealth and status. These wigs were made of powdered white or grey human hair. By 1822 Humphrey Ravenscroft of Ede & Ravenscroft, a famous English tailor maker with a long history of royal and judicial commissions, patented a legal wig made of whitish-grey horsehair that did not need curling, perfuming or powdering. Women lawyers needed to adjust their hair style to accommodate their wig.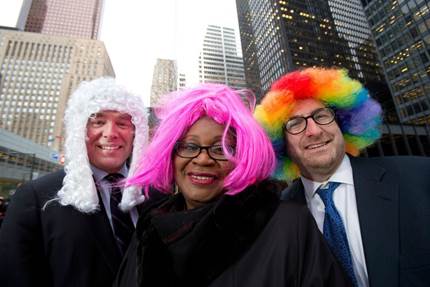 While no longer worn in Canada, wigs are still worn in court in over twenty other countries around the world. Thus, wigs are a symbol of centuries of English legal tradition. But more importantly, wigs are the central feature of this campaign because they represent the organizations' frustration with the current access to justice crisis.
Statistics show that nearly 12 million Canadians will experience at least one legal dispute or injustice in a given three year period. As a result of the inaccessibility of early assistance, legal services and dispute resolution assistance, as well as the complexity and length of formal procedures, approximately 50% of people try to solve their problems on their own with no or minimal legal or authoritative non-legal assistance.
And why does that matter? It matters because the inaccessibility of early assistance, legal services and dispute resolution means that over 20% of the population take no meaningful action with respect to their legal problems, and over 65% think that nothing can be done, are uncertain about their rights, do not know what to do, think it will take too much time, cost too much money or are simply afraid of what might happen. Moreover, almost 40% of people with one or more legal problems reported having other social or health related issues that they directly attributed to a justiciable problem.
Thus, the name "Flip Your Wig for Justice" plays on the combination of the traditional judicial wig, and the expression "Flip Your Wig" which implies to be angry or lose control as a result of excitement, anger or madness.
So now you are thinking, "sounds great! How can I get involved?" Well, 2014 marks the first year of the campaign. On March 6, 2014, members of the justice community and the general public in Ontario will wear traditional judicial or wacky wigs for the day to raise awareness for access to justice and support the seven founding organizations. Anyone can help! This is how you can get involved:
Wear a traditional judicial or wacky wig on March 6, 2014 to mark the day Ontarians took action for access to justice.
Visit flipyourwigforjustice.ca to register as a participant or team and begin collecting donations.
Make a direct donation to a registered participant or team at flipyourwigforjustice.ca or offline.
Donations are eligible for a charitable tax receipt.
Join the conversation on:
Twitter: twitter.com/FlipWig, #FlipYourWig
Facebook: facebook.com/FlipYourWigforJustice
Instagram: instagram.com/flipwig
While you're supporting the campaign on social media, check out the video "A Colorful Approach to Access to Justice" (hint, you can see Dean Sossin wearing a wig!) at http://lawtimesnews.com/201402243796/videos/a-colourful-approach-to-access-to-justice
But the fun does not end there. Actually, it does not start there. It starts this Wednesday, March 5. Rebecca Lockwood and Melissa Ilardo of Pro Bono Students Canada have organized the event Wigzards of Oz(goode), a wig-making party for all Osgoode students who want to get involved and learn more about the campaign. So come down to the JCR on Wednesday at 1:30 p.m., and like the Wizard of Oz said, let's be people who "do nothing all day but good deeds. They are called phila… er, phila… er, yes, er, Good Deed Doers." See you then Ozmites!