Helping Haiti After Hurricane Matthew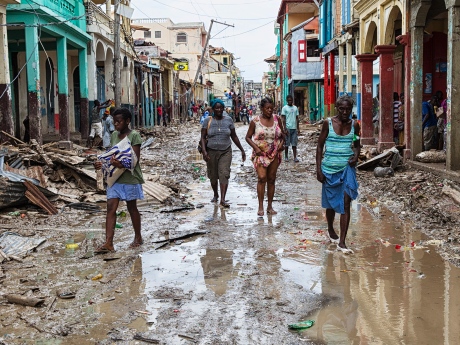 Hurricane Matthew, a powerful Category five Atlantic hurricane, devastated Central America and the southern United States between 28 September and 10 October, directly killing at least a thousand people and doing over five billion dollars' worth of damage. One of the worst-hit countries was Haiti, an island nation in the Caribbean with a population of almost eleven million people. In 2010, a 7.0 magnitude earthquake killed more than 200,000 people and caused billions of dollars in damage, destroying much of Haiti's infrastructure and leaving the country prone to natural disasters.
The current situation in Haiti is troubling. In the southern city of Jérémie, which has a population of 31,000 people, 80% of the buildings have been demolished. Acres of crop are destroyed, leaving many farmers without an alternative source of food or money. Many rural towns and villages are flooded under several feet of water. Entire parts of the country are left without electricity, phone lines, or emergency services due to poor infrastructure. And the poor are left the most impacted by the event, the home and livelihood simply being washed away by the storm.
And, of course, the situation is predicted to get much worse before it gets better. Many lives will be lost within the coming days because people are still left without basic resources, such as food, water, clothing, and healthcare. Worse, the hurricane has accelerated the existing cholera epidemic, eliminating much of the progress that the country has made against the disease since it the initial outbreak in 2010.
An interesting dilemma arises in this post-disaster context. Many individuals in high-income countries, feeling genuine compassion and sympathy for the Haitians' plight, want to help. However, since many cannot simply leave their jobs to help rebuild Haiti directly (and there are some cases where this kind of direct volunteering is not recommended), they have to rely on non-government organizations (NGOs) to provide help for them. They donate money, food, clothing, and other necessities in the hope that this act of charity will, in some way, help someone in need.
However, many are now questioning whether they should donate at all given the recent controversies in the NGO sector. In 2015, for example, an investigative report by ProRepublica followed up on the American Red Cross's multimillion dollar project to build hundreds of permanent homes for hundreds of thousands of people in the wake of the 2010 earthquake. The report showed that the project had built only six houses since the program started in 2011, their impact bogged down by organizational corruption and incompetency.
In the wake of Hurricane Matthew, many activists have shared this report, urging concerned individuals not to donate to the American Red Cross because it would be a waste of charity. Even the Canadian Red Cross has reacted, explicitly stating that money given to the Canadian branch will only be used to fund Canadian initiatives. It is definitely unfortunate that these controversies have come to light and have impacted peoples' humanitarian responses to the crisis. Some have simply not donated at all. Skeptical of taking NGO promises at face value and unable to properly search for 'good' NGOs, they simply do not act.
But perhaps this undermining of public trust in NGOs is an important development. Many activists, well before these controversies, have pointed out the dangers of being overly-reliant on non-government actors. Governments that must step in and must help its citizens too often defer to these organizations in times of crisis, diverting much of the responsibility away from themselves while hiding the institutional problems underneath.
For them, the best alternative to charity is political action. On a local level, the Haitian government should take the lead on coordinating aid as it comes in rather than relying on NGOs. On a country level, world leaders should coordinate these humanitarian projects, delivering aid directly rather than relying on the good will of its citizens. And, lastly, on an international level, institutions like the WHO should lead these projects, assuring countries that there is a safety net and ensuring that their needs are met.
Regardless of where one stands on this issue, both sides agree that inaction is the wrong choice. Skepticism of the efficacy of NGOs and governments is understandable, especially given their poor track record in actually providing help when crisis-stricken countries need it the most. However, something needs to be done in the face of tragedy.